What to Look For in Tummy Tuck Pictures after Surgery
Before and after tummy tuck pictures and photos tell people a lot about abdominoplasty results while searching for a Beverly Hills or Los Angeles plastic surgeon who specializes in body contouring procedures such as abdominoplasty and liposuction. After pregnancy many mothers search the net for tummy tuck before and after pictures of other women who similarly had developed stretch marks and loose abdominal skin with their pregnancy. Los Angeles women who seek abdominoplasty are keen to see pictures of abdominoplasty scars, as well as the shape and location of the belly button or umbilicus. These tummy tuck photographs posted on blogs or Facebook pages often give women an idea of what they could possibly look like after having had tummy tuck surgery. Although most before and after photos of abdominoplasty procedures don't actually show tummy tuck scars and depict women in a bikini or underwear, they are still very valuable in showing women how revealing of cloths they can wear after their tummy tuck plastic surgery.

Tummy tuck before and after photos often give an indication of the type of abdominoplasty technique that the cosmetic plastic surgeon is most expert in. For example while some plastic surgeons mostly show mini-tummy tuck pictures on their web sites, others show before and after pictures of a wide spectrum of body contouring procedures, such as, mini-tummy tuck, full tummy tuck, High Tension Abdominoplasty, Body Lift, Panniculectomy, and thigh lifts. It is also very important to look for abdominoplasty before and after pictures of those men and women who have the same body shape, form, and general size. Tummy tuck results of large size people or those who have lost massive weight is often very different than those that have always been very fit throughout their lives.
Tummy tuck pictures of men is also different than that of women since abdominoplasty scars in men are often placed differently than in women. Furthermore, while women try to achieve a curvaceous figure with a tummy tuck, men want to look masculine with muscle definition.
While reviewing pictures of abdominoplasty procedures are very valuable in assessing the skill of your plastic surgeon, tummy tuck videos often distract patients of the results of the tummy tuck. Although movies of tummy tuck procedures that are posted on YouTube are intriguing they often "grouse out" patients.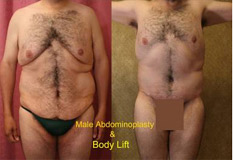 At the California Center for Plastic Surgery Dr. Younai reviews your treatment options for body contouring and tummy tuck, including pros and cons of each procedure, potential risks and complications, recovery course, pre and post operative instructions, and esthetic outcomes. There are also many before-and-after pictures and high resolution images of abdominoplasty available in our photo gallery.
Dr. Younai is a board certified plastic surgeon who receives patients at the California Center for Plastic Surgery from the Northern as well as the Southern California region. Some of these cities include Beverly Hills, Los Angeles, Santa Monica, Hollywood, Burbank, Sherman Oaks, Encino, Calabasas, Woodland Hills, Thousand Oaks, Westlake Village, Pasadena, Glendale, Valencia, Palmdale, Fresno, San Francisco, San Jose, Oakland, Sacramento, Stockton, Bakersfield, and Oxnard.